Wander around, take an easy stroll or go for a more adventurous hike!
Hikes for all levels
Are you looking for the perfect place to go for a hike? We have beautiful hiking trails for everyone who enjoys being outside.
From an easy stroll to a more adventurous hike or climb, we make sure we have well-maintained trails to enjoy.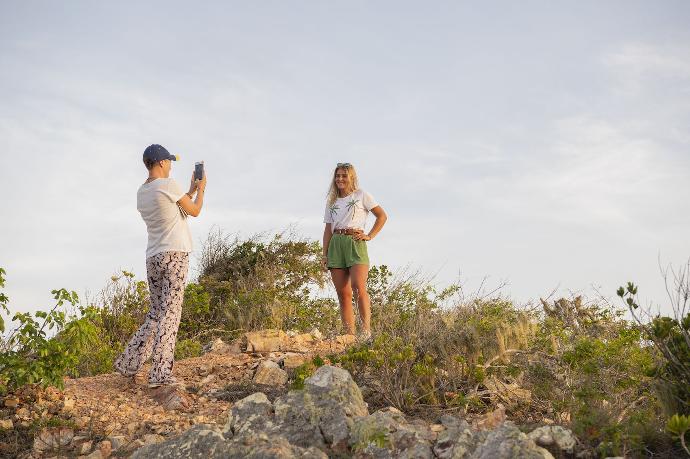 Trails & Guides
You can choose from different trails, ranging from an easy stroll to more advanced hikes: climbing Christoffel Mountain.
You can do all hiking trails without a guide.

Please commence your hike early in the morning. Bring your hiking shoes and enough water; otherwise the sun will be relentless.

With the help of one of our excursion guides you will be able to explore the park with ample information on flora, fauna, geological formations and historical artifacts. Our guides are highly experienced in spotting elusive wildlife and know a lot about the history of the park and the Savonet plantation.
Our trails
Christoffel mountain trail - 2-3 hour hike & climb
(only before 10 AM)
A strenuous but rewarding hike and climb and a must see for anyone who visits the island! Commence your climb before 10.00 am and make sure to bring enough water (2 liters, purchasable at the ticket office) and wear sunscreen, hiking shoes and a hat.

It is recommended to start the hike from the visitor's center, from which it will take approximately three hours to the top. You can also drive your car to the foot of the mountain and start the hike from there, from which it will take two hours.

The trail takes you through very different landscapes and shows a large variety of our nature. You can find bromeliads, orchids, lichens and beard moss along the trail. Although the trail is challenging, a unique and spectacular view of the island rewards you at the top.
Zorgvlied trail - 1.5 hour
Hike to the Zorgvlied plantation to observe the plantation ruins with their panoramic view, through typical vegetation and through Roi Berú (dry riverbed or rooi).
Plantation - Boka Grandi trail 1.5 hour
Walk through the former plantation, past a mahogany grove, wells, dams, a saliña (salt marsh) and limestone terraces to Boka Grandi. Enjoy beautiful panoramas of the Savonet manor and the surrounding hills; picnic at Boka Grandi.
White tailed deer - Boka Grandi trail 1.5 hour
Pass through the picnic area and the deer sanctuary to the North coast and Boka Grandi. Enjoy limestone terraces and panoramas of the Savonet manor.
White tailed deer - yellow trail - 20 minutes
Are you looking for a shorter trail? Use the first shortcut available at this trail for a relaxed 20-minute hike: A short, shaded walk through the Curacao White Tail Deer sanctuary with a stop at the Dos Pos ("two wells") picnic area.
White tailed deer - green trail - 40 minutes
The second shortcut on this trail offers you an easy hike with a picnic area. You will pass 'Dos Pos' ("two wells"), the deer observation tower within the deer sanctuary and a part of the former irrigation works.
Want to find out more about our Jeep Safari's?
Explore the national park with one of our park rangers in an open Jeep!